George's Bio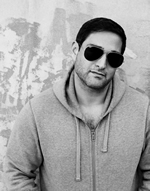 George Pogatsia is an award-winning actor and writer. He recently completed the feature-length version of his screenplay The Pizza Tapes, a dark humored satire about a Brooklyn pizzeria that is mysteriously placed under surveillance. It was a finalist in Visionfest's feature screenplay competition sponsored by Inktip. The short-subject film by the same title - which Mr. Pogatsia wrote, directed, produced, and starred in - was winner of the Pioneer Theater's Short Film Slam in 2002.
"The film works beautifully." John Coakley, SoHo Journal
"His love and appreciation for the craft are obvious throughout, as he delivers a truly remarkable performance by injecting just the right amount of subtlety and appropriate nuances." Brian Nilred, Guerrilla Filmmaker
Mr. Pogatsia won the Best Supporting Actor award at the 2003 Fairlington Film Festival for his portrayal of a rogue detective in the film Triad.
He honed his craft appearing in over twenty arthouse films. Some of Mr. Pogatsia's credits include Bookies, which premiered at London's Rainfest; Closers; and Your Honor. He has twice guest starred on television's Law and Order, as well as The Sopranos, and was featured on a Hollywood Squares special highlighting up-and-coming actors.
He first caught the acting bug as a child. A pen-pal relationship with his Golden Globe-nominated cousin, the late Gregory Rozakis, further fueled his dream and appreciation for the craft.
He studies with heralded acting coach Sheila Gray and enjoys sharing his love of the arts with his wife, son, and daughter.